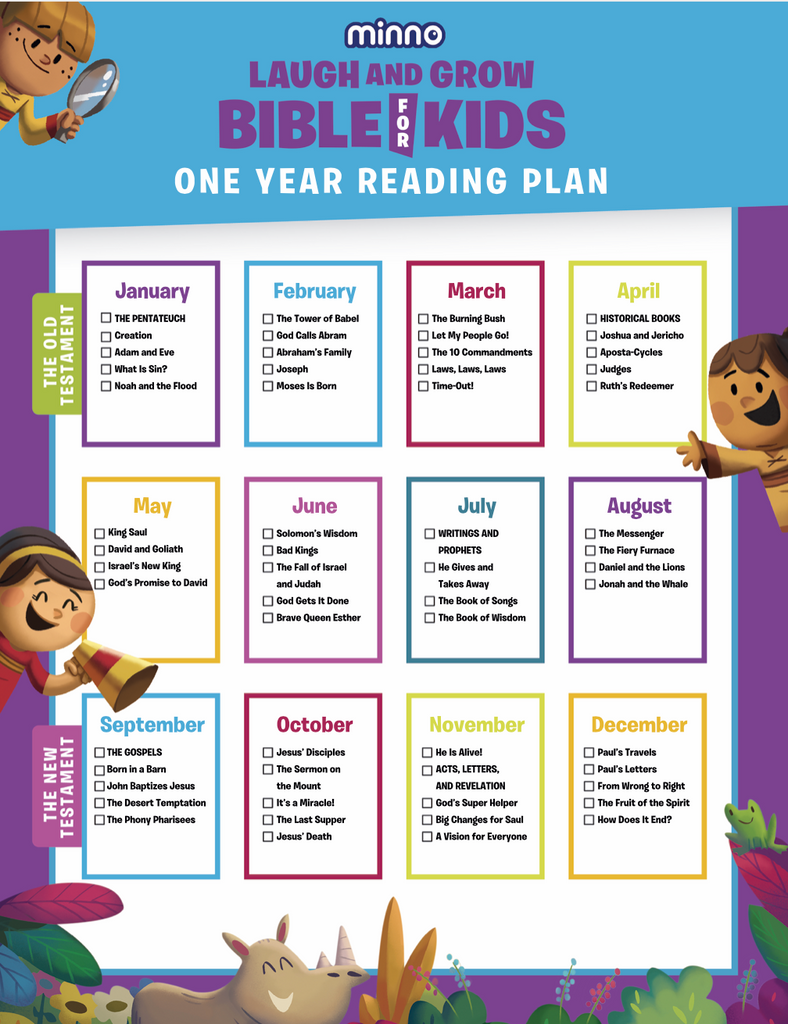 The idea of reading through the entire Bible in one year as a family probably seems daunting . . . impossible. Right?! But inviting our children into God's story is one of the most significant steps we can take in building their faith foundation. And the truth is, the Bible doesn't have to be daunting or boring. It's the most amazing, true story ever told. And it's OUR story!
We created the Minno Laugh and Grow Bible for Kids so that children can see and understand that the Bible is fun! God's story is full of epic adventure and important life lessons that will help us live amazing lives. Phil Vischer uses whimsical storytelling in his laugh-out-loud retellings of the Bible—from Creation to Revelation—and everything in between.
The Minno Laugh and Grow Bible for Kids is intentionally designed to help families read through God's story in a year, with fifty-two five-minute stories that clearly teaches God's rescue plan and the good news of Jesus' love.
We invite you to follow along on this one-year Minno Laugh and Learn Bible reading plan. It includes just four or five stories per month so you can read one each week. When you read through the Minno Laugh and Grow Bible your kids (and you) will have a deeper understanding of the full Bible narrative. 
This one-year family Bible reading plan will help you:
Share God's story with your kids from beginning to end in just one year!

Start faith-building conversations with each new story.

Create a family Bible reading/devotional habit in just 10 minutes a week!

Laugh and grow together as you learn Bible truths.